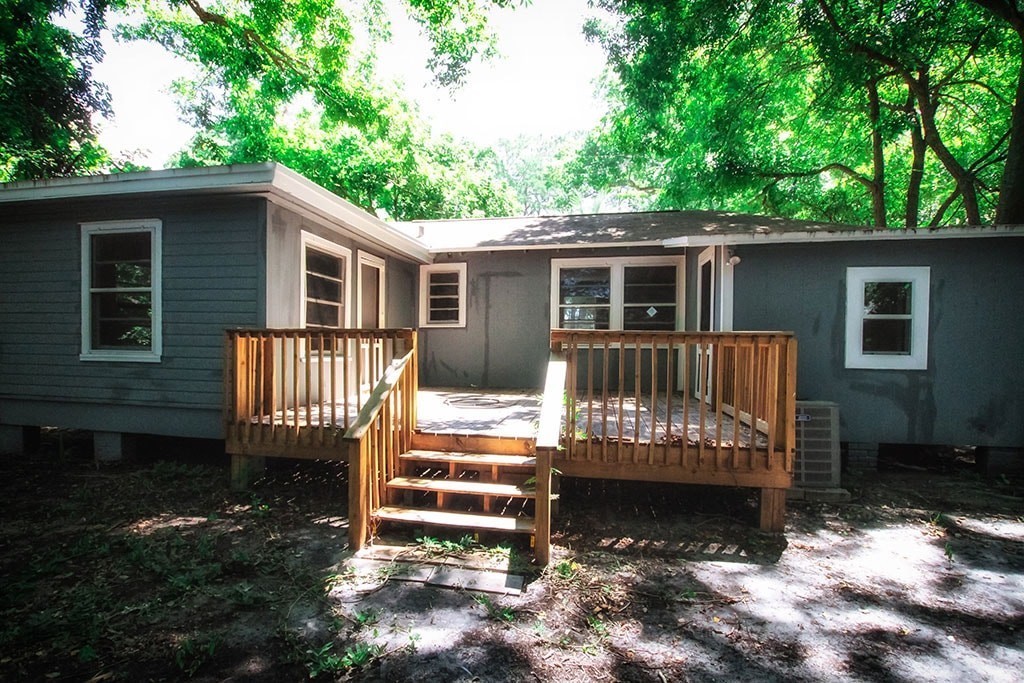 Three years ago, Dana Lebel, a marketer of health supplements, bought her first apartment in Rishon Lezion, a city just south of Tel Aviv. Over time, with equity in her apartment and some disposable income, Lebel became interested in purchasing investment property to leverage her capital while earning a passive income.
But like a lot of middle-class Israelis, Lebel discovered she was priced out of other housing in her area — a problem many Angelenos can relate to. Then her mortgage broker told her about an investment opportunity in Jacksonville, a port city in northern Florida.
Half a year ago, Lebel walked into the Ramat Gan offices of Karkaot Israel, a real estate firm that markets properties for USAHomes, an American real estate and management company. She looked at homes for sale on USAHomes' website, and that night set in motion the process of purchasing a $60,000 single-family house, complete with renters, in Jacksonville. The transfer of ownership, conducted through a title insurance company, was completed within two months. The remote purchase was easy, orderly and had none of the red tape that accompanied the purchase of her property in Israel, Lebel said.

"I'm not going to live there, so I didn't investigate too much," Lebel told the Journal over the phone. She felt secure with the investment based on reports that Jacksonville is deepening its harbor to benefit from the expansion of the Panama Canal. "I know the whole area is in major development," she said. Today, she collects about $700 a month in rent on the house, and she hopes to buy another rental property through the same process.
According to Rina Zalachin, manager of Karkaot's U.S. department, the company has helped dozens of Israelis purchase turnkey — ready for occupancy — rentals based on photographs and detailed information about the properties and neighborhoods, reflecting a growing trend of Israelis investing in residential properties in the U.S.
But few of Zalachin's clients choose to travel to Jacksonville or Rochester, N.Y., another city she markets for its location, economic stability and attractive return on investment, before purchasing a property. "What will it help to see the property?" she asked. "Today you have Google Earth."
Several years ago, former Israeli judo Olympian Orit Bar-On Bakarski, founder of InvestOrit, purchased and flipped several single-family homes in Memphis, Tenn. Inspired by her mentor, real estate mogul Robert Shemin, Bar-On Bakarski said she has since left her previous career in high-tech to help others invest in real estate in the U.S.
"The more people I talk to, the more I find that they already have homes in the United States, or they're open to it," Bar-On Bakarski said.
Memphis and Atlanta are her cities of choice because they are located in states where laws and regulations favor landlords over tenants (for example, making it relatively easy to evict unsatisfactory tenants). Generally, she purchases foreclosed properties from banks at under-market prices and sells them to Israeli investors who entrust her U.S. team to refurbish and rent the properties. On the lower economic end, investors can expect to net $450 a month in rent on a $50,000 home in Memphis; a $96,000 house can bring investors about $1,100 in rent. (Buyers must take into account additional costs such as property taxes, insurance and sundry expenses.)
"As a foreign investor, everything is very, very easy nowadays through the Internet," Bar-On Bakarski said. "Once the sale is closed, the records get updated in a few days and you can see your name on the deed of the property."
Ronen Nassimov, a CPA in Israel, has recommended that several of his clients invest abroad for the simple reason that the return on investment (ROI) is higher — about 8 to 12 percent — compared with Israeli properties, which have an ROI of about 3 to 5.5 percent.
Nassimov cites one major disadvantage of investing in another country: "In the United States, the property is far from you, you have to trust the agents, whereas in Israel, you can see the property and meet the renters."
Owning rental property anywhere is not without hassle or risk — tenants could default on rent; homes might require sudden, expensive repairs; and a local recession could hit, driving down property and rental values. To minimize the risks, Nassimov recommends visiting the property in the U.S. rather than relying on online profiles. And, although investors are commonly advised to choose a locale based on sound financial calculations rather than an emotional response to the area, Nassimov, an investor himself, would rather choose a home in a city he wouldn't mind living in.
That may be one reason why some Israelis decide to buy in Las Vegas, even though the ROI there is about 6 to 8 percent, less than what can be made in some other parts of the U.S.
Real estate agent Jennifer Eckmann of Choice One Properties in Las Vegas works with Israelis who have created a portfolio of properties for investment purposes. She said they often like the benefit of an Israeli network on the ground — and an excuse to visit Sin City, where Hebrew is increasingly spoken on the streets and in the casinos.
"Vegas is always growing, always changing, and there's always a movement of people — always people selling and buying. There's always action." This "action," she believes, is appealing to Israelis.
Las Vegas was hit particularly hard by the 2008 crash, when prices of condos plunged to $25,000. Today, those same condos start at $65,000, and can yield approximately $700 gross monthly income.
Eckmann, Bar-On Bakarski and Nassimov have noticed another trend — Israelis coming together to leverage their joint equity to produce an even larger payout.
Among the more prominent companies specializing in crowd investing is the private investment firm Keren Hagshama. Through the firm, for amounts starting around $35,000, Israelis can join large-scale commercial and residential projects all over the world, from Brooklyn to Berlin.
"You can play with the big leagues in Manhattan," said the firm's founder, Avi Katz, a business mogul who is considered to have revolutionized the Israeli cafe industry by opening Cofix, a chain where each item costs 5 shekels ($1.25). Keren Hagshama provides the expertise — including lawyers and accountants — to complete the deals, offering an ROI of up to 20 percent, according to Katz.
Katz also said that average Israelis have few real estate investment options in Israel. Israel is expensive, making large-scale developments the province of Israeli tycoons. In addition, Israel does not have a strong rental culture; Katz estimates that 68 percent of Israelis own their homes.
Still, Bar-On Bakarski was surprised to learn that Israelis are seen as joining the ranks of other foreign investors in the U.S. real estate market.
"I was at a real estate summit in Las Vegas," she said, "and in that summit they host real estate television personalities, and one stood on the stage and said: 'You know it's crazy now — the Chinese are buying, the Canadians are buying, the Israelis are buying.»